Cannabis Consulting & Master Grower Apprenticeship Programs
Our custom cannabis consulting programs and master grower apprenticeships will turn anyone in to a green thumb. Catered to your grow room design, strain and environment. We dial in the exact group of nutrients, environmental controls and techniques for every stage of cannabis cultivation. Taking the guesswork out of growing and producing huge yields every time.
Our programs are sent in weekly as the stages of growth change, keeping your garden in full control. All you need to do is send in pictures once a week and follow our room controls and growth instructions provided. This can be done from anywhere in in the world discreetly from your phone, no need to bring extra crew members on site.
Fair pricing, knowledgeable staff and structured programs catered specifically to each cannabis cultivation are the backbone of our consulting packages. Providing a wealth of knowledge, remotely, to your phone in weekly customized packages.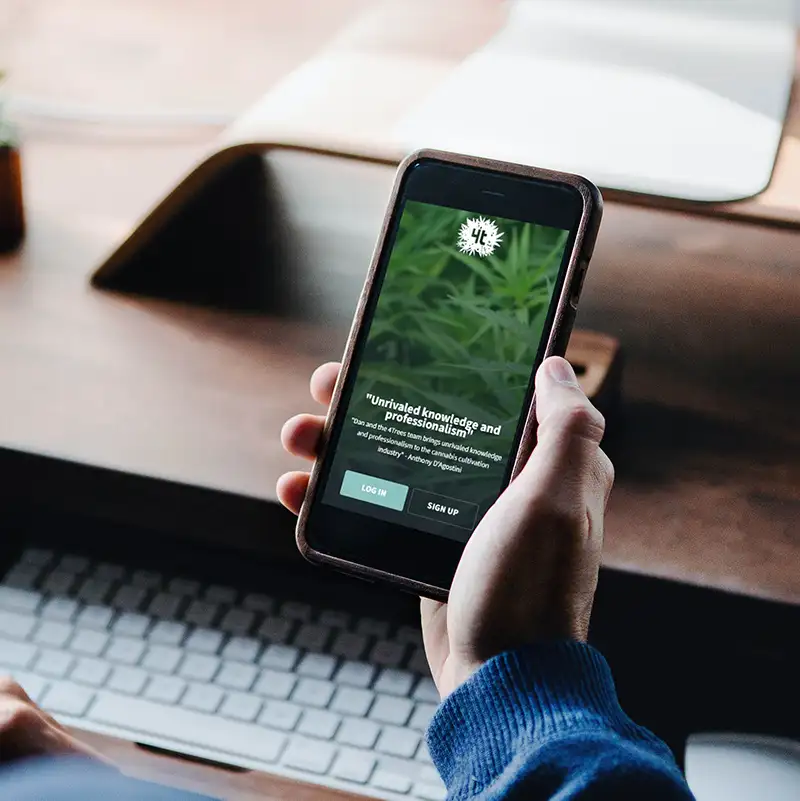 Check out our phone application available on Android and iOS to help you stay on track.
Strain & Environment Customization?
What is a program with strain and environment customization? Your specific strain is researched to provide the optimum growing conditions for that strains geographic origin. Rooms environments, feeding requirements and light intensity amongst other things are matched to provide the best possible conditions. In the cannabis industry small mistakes can lead to big profit loses. The benefits to having a professional opinion that can offer real world advice on your indoor garden and a schedule to follow are second to none. Even seasoned growers find our programs are more then worth it considering the increase in yield, problems avoided and fair pricing.
Master Grower Apprenticeship Programs
Our master grower apprenticeship programs will shape anyone who is willing to learn into a professional grower by the end of the program. With our structured courses and master growers, we streamline the entire process from seed to jar. 
Our structured courses mean that we teach things to you at a pace that's easy to grasp with hands on learning so you can take the information at a digestible rate.
Knowledge is power
Craft grown cannabis on a commercial scale is a thing, and we would love to show you how.
That's right! You follow along our master grower apprenticeship courses while growing either your approved legal limits, medically or even in a micro cultivation facility setting. We like to have our courses complimented by real word growing so that our customers can learn with actual plants. 
Over the years 4trees Cannabis Building has had the pleasure of offering advanced cannabis consulting and planning to customers all over the world. This has helped us diversify with multilingual planning and consulting transcriber's.
Multilingual Planning & Consulting
Structured Courses Catered To Real World Grows
Seasoned Cannabis Consultants
Transcribing For Live Multilingual Cannabis Consulting
Servicing Anywhere That Cannabis Is Legal
Servicing

All

Growing Styles
At 4trees we are some of the strange few who absolutely adore the difficulties, math and headaches involved in the intricate cultivation planning stages. Teaching people who have zero knowledge in the field, or even industry veterans looking to switch over to recreational growing. We can keep up with the best of them and encourage you to ask us for a FREE trial on our services! Because when you do good, we do good.